Sparring partners can come in many forms. They can be good friends and allies. They are often love interests. Many sparring partners actually come in the form of villains who, by adding negative pressure, force the hero to get stronger. A sparring partner can also come in the form of a setting or circumstance.
Here are a few examples of good sparring partners.
Love Interest Sparring Partners
Han Solo and Princess Leia
There is no question that Han's interest in Leia opened the door for him to reveal his big heart and put it out on his sleeve. Han's drive to fight for Leia, Luke, and the Rebellion pushed him to greater things and more selflessness than ever before.
Leia's love for Han opened up places in her heart that she had carefully shielded. She is a more well-rounded person because of him.
And let us all just recognize the masterpiece that are Han and Leia's verbal exchanges. I think some of the most legendary film dialogue ever written takes place in The Empire Strikes Back.
Finn and Rey
In the course of just a few days, Finn goes from being a frightened Stormtrooper to charging fearlessly into Starkiller Base and dueling with a Dark Side warrior. Finn makes this incredible 180 turnaround because of one person: Rey. Rey simply being who she is pushes Finn to desire to be better, to be more. And that mighty person is exactly what he becomes.
Likewise, Finn touches Rey's heart by being the first person in her life who has shown her concern, care, and friendship. His choices regarding her make a huge impact on her chosen direction. Finn was a catalyst in Rey's life that helped move her down the path she is destined for.
Barry Allen and Iris West 
I wish I had time to cover everything I have to say on the subject of West-Allen. I promise you, there is a juicy article in the works.
Barry Allen has been in love with Iris West since forever. Iris has always believed in Barry, even when he didn't believe in himself. The combination of these two is dynamite.
Barry runs faster, punches harder, and doesn't give up because he knows that Iris believes in him. She is his inspiration as well as his home.
Iris has always been inspired by Barry, she has always believed in him, even before he became the Flash. Her relationship with Barry throughout the years has helped shape her into a compassionate and mighty person who makes things happen. She isn't afraid to speak her mind to Barry, even when he doesn't want to listen.
Like I said, dynamite.
Steve Rogers and Peggy Carter
*Sigh*, we've lived this story so many times and it always hurts. But it still wows me.
Steve Rogers immediately saw the strength, dignity, and heart in Peggy Carter. She was everything he could have ever dreamed for in a woman. Knowing her made him want to be better all the time. He carries a picture of her in his compass because Peggy is his true north, his guide, even after her death her words and heart still reach him at his core.
Peggy Carter was almost instantaneously impacted by Steve Rogers. She fell in love with him on Day 1 and his memory inspired pretty much her entire life. She felt that no one, including her, could ever hope to be everything that Steve was. Keeping him in mind, Peggy lived a legendary life that inspired others.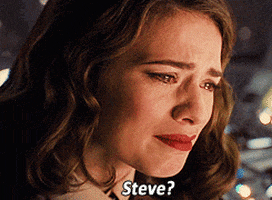 Best Friends
Steve and Bucky
They are with each other "To the end of the line." 
Growing up, Bucky kept Steve alive. He never failed to have Steve's back. He took punches, fought battles, and held his friend up through anything. Knowing that scrawny kid from Brooklyn with the massive heart made Bucky into the best friend everyone dreams of. He is a total hero. Without Bucky, there never would have been Captain America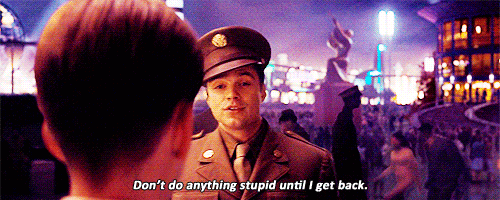 Steve had the best friend in the world, one he could always depend on. When Steve thought he lost Bucky, he kept going with Bucky still sitting in his heart. The knowledge of who Bucky was and the sacrifices he willingly made hugely impacted Steve's life choices. Later on, when Steve learned Bucky wasn't actually dead but now a brainwashed assassin, Steve didn't write his friend off. He walked through fire and ice to save his friend, without hesitation.
Hiccup and Toothless
Hiccup Haddock began to come into his own as soon as he met Toothless. While Hiccup already had many unrecognized talents and abilities, he never had a reason to bring them forward until he met his dragon. Toothless made Hiccup grow into a selfless leader who is constantly improving. Hiccup never settles or stays stagnant, he is always improving, always growing.
Bonding with Hiccup pushed Toothless beyond the bounds of ordinary dragons. Toothless was already an extraordinary dragon, but his great love for Hiccup has pushed him to do things that go even against his own biological instinct. The greatest example of this is when he challenges the Alpha Bewilderbeast in order to protect Hiccup.
Hiccup and Toothless are stronger together, they inspire and push each other to greater heights all the time.
Woody and Buzz
Despite a rough beginning, Woody and Buzz have a friendship that real life people are jealous of. While Woody at first felt threatened by Buzz's strong presence, he has since grown to appreciate and lean on this brave little space ranger's shoulder. Woody helped Buzz face reality, learn resourcefulness, and taught him the joy of being a child's toy.
Buzz is Woody's backbone. When Woody needs support, Buzz is there. When Woody can't lead the other toys, Buzz steps up to the plate. When Woody forgets who he is and what being a toy means, Buzz is there to remind him. Great friends remind each other who they are when one has forgotten.
Woody and Buzz make each other better, they fill each other out and made one heck of a team.
Enemies
Flash and Reverse Flash
Run, Barry, run!
Eobard Thawne (aka Harrison Wells/The Reverse Flash) is a top example of a how a villain can be an excellent sparring partner.
Thawne is incredibly layered and complex because he has been the friend, mentor, villain, and created circumstances that have all shaped Barry and forced him to become better. Thawne is constantly moving around and changing up his strategy to manipulate Barry's actions. That being said, everything that Thawne has done has still made Barry faster, stronger, and smarter.
Barry continually overcomes obstacles and springs back up. Whenever Thawne thinks he has won, or at least stolen something from Barry, the strength of Barry's will and heart still carry the day. Thawne continually has to change and evolve his strategy because he just can't seem to take a good Barry down.
Luke Skywalker and Darth Vader
There are dozens of articles waiting to happen regarding the Skywalker family. I'll try to keep it simple here for now.
Luke Skywalker came onto the scene as a whiny kid who had raw talent and Force abilities. And he was in WAY OVER HIS HEAD. Still, he had a enough mentoring in the form of Obi-Wan to jump-start his Jedi career. He also adopted his own personal enemy, the scary guy known as Darth Vader.
Luke was driven to conquer Vader for multiple reasons. He knew Vader to be the villain that destroyed his father (whom Luke worships), Vader killed his mentor (Obi-Wan), and Luke knows that in order to become a powerful Jedi, defeating Vader is his primary concern.
This drive to defeat Vader pushes Luke to train. His time spent on Dagobah was all geared towards his impending confrontation with Vader. Mentally, and physically, Luke was preparing himself for the sole goal of defeating Vader. And then, SURPRISE!
This was a huge moment for Luke's character. Everything could have fallen apart right here, but lucky for us Luke was smart enough to fall down a ventilation shaft and get the heck outta there.

By the sixth movie, Luke's goal and drive was to win his father back. He was calm, focused, and frighteningly strong. He faced down Vader and the Emperor without fear. He declared himself to be a true Jedi and confirmed his belief in the good left in Anakin Skywalker. Because of his back and forth battle with Vader, emotionally, physically, and mentally, Luke walks out of Return of the Jedi a total superstar.
Darth Vader was trapped. He was evil, he hated the Emperor, and he hated himself. But he was too weak to do anything about it. Until he met Luke.
"The Force is strong with this one." He becomes obsessed with tracking Luke down and bringing Luke over to his side to join him and overthrow the Emperor.
But that Luke is just too darned determined! He's slippery, he has good friends who have his back, and Luke is surprisingly strong. Vader has to keep thinking outside of the carbonite chamber in order to track Luke down.
He tries to play the "I'm your Daddy, I know you have Daddy issues" card and his kid purposely falls down a ventilation shaft to get away.
Luke awakens something in Vader. He awakens whatever is left of Anakin that is buried inside of this dark Sith lord.
Vader is in awe of this kid, his kid, who keeps popping back up and just getting stronger all the time. Vader is at war within himself, the Dark and Light side are both tugging at him. One side is his enslaved mind to his Master, and on the other side is his love and admiration for his son.
Luke's faithfulness and strength are strong enough to make Darth Vader shake himself out of years of darkness and slavery, and overcome the evil that is both himself and the Emperor.
If Luke had never been forced to face Vader, he wouldn't be so strong. And if Luke hadn't been so strong, Vader never would have returned to being Anakin. That right there is a showcase of the great power of a excellent sparring partner.
Vader and Luke were sparring partners from the very beginning, even though the nature of their interaction with each other evolved and changed throughout the story.
Setting/Circumstance
Mars and Mark Watney
The Martian has to be one of the best films I have ever seen. It was man vs. Mars wrapped up in a dramatic, yet lighthearted and educational package..
There is no villain in The Martian, but there is an antagonist, and one heck of a sparring partner: Mars.
An inanimate object, a thing with no mind, will, or emotions still takes on the role of the opposition. In order to stay alive, Mark Watney has to essentially beat Mars. He has to out-think, out-math, out-science, out-wit, and out-mental Mars.
Mars proves to be a pretty tough sparring partner. It constantly throws things Mark's way that almost kill him.
Mark jumps through hoops, solves seemingly impossible equations, and comes up with gadgets and gizmos that would make MacGyver weep. Mark also grows very mentally strong during this ordeal. While he faces heartache, loneliness, despair, and fear, he never gives up.
The Mark Watney who went into space with his buddies is not the same Mark Watney that comes back to earth. He has conquered the unimaginable and come out victorious.
Mark still has an affection for Mars. Even though just about every aspect of Mars was trying to kill him on a regular basis, Mark appreciated the beauty and wonder of Mars. Mars was practically became a character in its own right.
Mark's character sparred with Mars and he grew exponentially. Those watching Mark grew. Mark's goal to stay in the match (stay alive) with Mars created a ripple effect that went all the way down to earth. Thousands of people were effected and made stronger by the match with Mars.
Jurassic Park Movies- Man Vs. Nature
Yet another series that I have so much to say on, but now is not the time.
The Jurassic Park films are an amazing example of using setting/circumstance as a sparring partner. I put the dinosaurs into the category of setting because the dinosaurs are not dangerous for any emotional or personal reason. This takes the soul and emotion out of the situation, fitting it more into the category of an emotionless setting or circumstance rather than an emotionally-driven character.
While there are human villains in these films, those humans and their effective harm pale in comparison to the dinosaurs and the damage they cause.
Yes, a dinosaur is a living creature, but it is a creature without a spirit and soul. The dinosaurs in Jurassic Park are merely behaving out of their instincts, making them less personal, but no-less deadly. This of course was changed in Jurassic World, when the Indominus Rex began to rampage beyond the need for food or defense, but instead merely for sport.
The characters in the first 3 Jurassic films often go into the situation with wide-eyes and little wisdom.
It doesn't take long for them to realize that they are pretty well out-matched and they are going to have to adapt and learn fast if they want to live.
The ones who make it out do so because their characters had a growth spurt. They learned to stop underestimating these animals. They learn the animals' strengths and weaknesses.
The animals also change and adapt. The velociraptors in particular. They experience new circumstances, absorb the information, and then adapt to the new situation. More than any other dinosaur species in this movie series, the velociraptors prove that they are not stagnant and will continue to change and grow. That makes them ever-increasingly difficult to defeat.
This is an incredibly unique set-up, one where an animal is the human's great sparring partner/enemy, but the non-emotional creature is also learning and growing because of the human's involvement.
*****
The need for good sparring partners is vital for any story, be it a film, a book, or your real life. I draw a lot from studying these interactions on screen, and I hope now you can too.
What type of sparring partners do you enjoy the most? Villains and heroes? Love interests? Best friends? Setting/circumstance? What are some of your favorite sparring partners on screen? Do you have great real life sparring partners that help you grow and mature?
I'd love to hear your stories and your opinions. Share what you love, I want to know what you think.
And if you missed my previous article, you can find it here.