Season 3 of Rebels is only 2 days away!
Season 2 wrapped up with a show-stopper finale that left us with so many questions and very few answers.
Is Kanan blind for life?
Is Ahsoka truly alive after her duel with Darth Vader and will we ever see her again?
But I think the biggest question on everyone's mind is….
….will Ezra turn to the Dark Side?
Our last shot in the Season 2 finale was of Ezra Bridger seated alone in his room, full of anger and sorrow. As he sat there, the Sith holocron he collected at the Sith temple opened in his hand, a sign that he had tapped into the Dark Side of the Force. And, for just a moment, his eyes had glowed orange.
Ezra has been a volatile member of the Force wielders since the beginning. His biggest moments and steps forward often come piggybacked on intense emotions. Ezra himself is a person who feels things very deeply. When he loves, he overcomes any obstacle to fight for his loved ones. And when he is angry,  he becomes an almost unstoppable force. Ezra is also fiercely protective, he hates seeing the innocent suffer and he wants to protect all those he loves from harm.
Darth Maul definitely manipulated Ezra's fierce emotions during their shared time in the Sith Temple. Maul senses in Ezra a powerful Force user, one that Maul would like to use for his own agenda. Ezra showed some pretty concerning signs by tapping into his anger, sorrow, and hate to accomplish things while he was in the temple. There is no doubt that he was beginning to toy around with the Dark Side.
Still, here is my biggest question.
Is all of that enough to truly turn Ezra to the Dark Side?
And to that, I would say….
….no, it isn't.
Here's why.
1. Ezra's No Anakin Skywalker
Anakin Skywalker is everyone's go-to guy when it comes to an example of someone turning to the Dark Side. Well, of course he is! He is actually the only main hero-turned-villain that we have ever experienced. However, Anakin's story has led to some over-generalized statements and black and white beliefs about how you turn to the Dark Side that simply don't add up with regular human, or alien nature.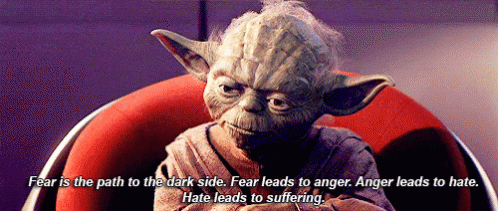 This is probably the most over-used and wrongly applied statement in Star Wars history. In this scene, Yoda was speaking about what he sensed in young Anakin Skywalker, a specific person. He sensed much fear. Yoda was concerned about where Anakin's unstable soul might lead as he grew in the Force. There is a downhill pattern created by continual choices made out of fear, anger, and hate. And the consequences of those poor choices always leads to suffering. I don't deny any of that, what I take issue with is applying the one situation and character to every new character who hyperspeeds onto our screen.
We all know what happened to Anakin Skywalker. He was volatile and reckless, he gave into fear, hate, thirsted greedily for control, and he hurt the ones he "loved". Anakin came up against the hardships of life and he chose the Dark Side to fix them instead of clinging to the Light.
People pull the above quote and Anakin's story out of the hat every time a good Force-wielding character shows any hint of anger or poor decision making. But that's not very realistic, nor does it fit into this larger story and huge cast of characters we have been introduced to. The only character we have thus far seen this apply to would be Anakin himself.
Despite the fact that Star Wars is a galaxy far, far away, a place full of strange worlds and species, it is still a story that reflects our reality. Every great story has to reflect our reality in order to make sense in our minds, if it doesn't, we reject it because we know that things don't add up. I know for a fact that I don't become a serial killer every time I get angry and react; so why is it assumed that will happen to any Force-wielding hero who gets angry and reacts in the Star Wars world?
People in reality feel things. We feel sad, we get angry, we face fear. We loved people, we lose people. Hardships and experiences change us. We go through times of triumph, and times of trial. Some of us wander but are eventually brought home to the Light again. Some of us give into the Dark Side and never come home.
We make good choices, we make poor choices. We face the consequences for both. We are regularly faced with a question of, "Who am I and how am I going to live my life?"
This is our reality, and since Star Wars must reflect our reality, that means it is also Ezra Bridger's reality. And if the makers of Rebels understand that as well as I hope they do, then they know Ezra Bridger is no Anakin Skywalker, he is his own person.
Ezra Bridger is on a journey. He has had people come and go in his life. He has loved and he has lost. He has been frightened, angry, devastated, happy, and he knows what it means to love and be loved. Ezra is us, a person trying to navigate life in a scary world, where the Light and the Dark sides are both pulling at him.
Anakin Skywalker lived his story and made his choices, for better and certainly for worse. He chose wrong for the majority of his life. But his pattern doesn't instantly become every other character's. Let Anakin Skywalker be, Ezra Bridger is no Darth Vader.
2. Anakin Was Easily Seduced Because He Was Alone, Ezra Is Not Alone
"I know you have to go, but that doesn't mean you have to go alone." (Kanan)

"We support you. We're family." (Hera, Season 2, Ep 11)
As I mentioned in Tuesday's post, Rebels has a family structure. Our characters are not isolated and alone, they are not left vulnerable. Those who are alone are more susceptible to deception.
Palpantine preyed upon Anakin's sense of fear, lack of control, and isolation. He made Anakin feel safe and in control, two things he had always craved. Obi-Wan Kenobi was Anakin's strongest support, but he was absent on the day that Anakin really needed backup the most. I believe had Obi-Wan been there the day that Palpantine turned the tables, Anakin wouldn't have given into the Dark Side.
But instead, Anakin was alone. He was frightened, he was angry, and he craved power. And he was seduced.
Ezra spent several years of his life alone on the streets of Lothal. He shares the characteristics of Anakin in that he has felt isolated. However, Ezra is now a part of a family who will never let him go. They are his greatest strength and his greatest allies. When one member of the family falls down, the others crowd in to carry that person through.
Ezra may wander, he may struggle, but he will never be lost. His family will not lose him. The power of the Dark Side pales in comparison to the power of their family bond.
3. There is No Room For Family In the Dark Side
Family is everything to Ezra. It matters the most to him. The Dark Side is no place for family, it has no room for love, compassion, and unity. Even if Ezra is drawn in somewhat by the illusion that he can have greater power by using the Dark Side, he will eventually be repelled by the fact that the Dark Side comes in conflict with the thing that matters to the most to him….his family.
"I already lost my parents, I'm not about to lose my new family." Ezra (Season 1, Ep 13)
4. Ezra's Legacy IS One of Hope
From childhood on, Ezra has been surrounded by hopeful and good people who are willing to stand up for what they believe it. It began with his parents, who would broadcast messages of hope and resistance to the desperate people on Lothal.
Ezra was bitter and angry about his parents' disappearance for a long time, but truly, deep down, he was just heartbroken. He loved his parents so much, he loved their courage and their hope. The Bridgers planted a seed in Ezra's heart that took root and the finally bloomed when he met the crew of The Ghost.
"What's wrong with us?" Ezra 

"We have hope; hope that things can get better. And they will." Hera (Season 1, Ep 10_
Even after learning about the death of his parents, Ezra's hope shone out like a lightsaber. He no longer carries their memory with regret and sorrow, he now sees the beautiful legacy that they have left him. It is a legacy of hope.
There is no room in the Dark Side for hope, it chokes the life out of anything beautiful and hopeful. Hope is who Ezra Bridger is, who he was made to be. From the moment he was born he has been surrounded by people of hope.
Ezra may have forgotten that part of who he is for a short time. I think at one time or another we all forget who we are when the pain and anger gets strong. But, those who are lost are often brought home again, especially when they are surrounded with the people they love.
Ezra has a wonderful family who will not let him forget who he is. Ezra's family is everything to him. He will wander, but he will come home again.
Ezra is going through a difficult time right now, no doubt about it. His soul is weary and his heart is torn. He has made some poor choices and some mistakes.
However, he still carries a huge heart of compassion, a sense of right and wrong, and a deep desire to do good. Ezra has grown into a very self-sacrificing person during his time with the Rebels. None of these characteristics fit into the Dark Side, they are the complete opposites.
Ezra Bridger is a hero. Like all heroes he will struggle, he will be tempted, and he will make wrong choices. He wouldn't be a realistic hero if he didn't experience those things.
But he also wouldn't remain a hero, if the Light didn't ultimately prevail.