I know, some are going to see this article and roll their eyes. "Why would I want to watch another Disney Channel show with over-exaggerated acting and teenage drama?"
Fair enough, I do enjoy Disney Channel, especially their original movies, but I fully recognize the many shortcomings of that channel. The shows generally lack depth and meaning. Characters' lives magically reset at the end of each episode, and the moment things start to get serious another cheesy joke is thrown in before we are allowed to get emotional. Parents aren't involved, and characters are incredibly self-focused about their own problems. The acting is overdone and sometimes downright embarrassing.
The biggest reason I feel disappointment about this is because I think Disney Channel is underestimating their audience. The target age group for their shows is much smarter and more capable of handling real stories than Disney gives them credit for. Instead of wasting money on cliche plots and cheesy jokes, Disney could invest a bit more time and teach the next generation about life. And that, is precisely why I love Girl Meets World.
Girl Meets World has never been a run-of-the-mill Disney Channel show full of cheap humor, insults, and teenage drama. It was never intended to be. Girl Meets World, just like it's predecessor, Boy Meets World,  is a show that teaches both children and adults about life, people, and how to grow up well. If you have only ever watched this show for a few minutes, might I recommend sitting down and watching some episodes all the way through?
Some of the episodes I would most highly recommend are Season 1: Girl Meets Father, Girl Meets Maya's Mother, Girl Meets Flaws, Girl Meets Game Night, Girl Meets First Date Season 2: Girl Meets the Secret of Life, Girl Meets Hurricane, Girl Meets Yearbook, Girl Meets I Am Farkle, Girl Meets Rileytown, Girl Meets Forgiveness.
Now, on to 5 specific reasons why you should watch Girl Meets World
1. Girl Meets World Teaches Everybody, No Matter Their Age
The messages and values taught in this show are not just for children, grown adults are learning things about life they never knew. Children are future adults after all. We don't immediately lose everything we ever felt or thought as a child once we grow up, those things stay with us throughout our lives. As a child, we were trying to understand the world and grasp its meaning. Most of us are still in that place even as we are adults. Girl Meets World pulls out the meaning and truths of life and weaves them into digestible messages told through charming characters and witty humor.
2. Girl Meets World Focuses On Building Lasting Relationships
How many people in our world have grown up isolated and alone? Our culture is infested with poor relationships. Most people don't even know how to form a healthy relationship, even if they want to. Isolation and self-centered attitudes pervade so much of our society. What if we had all grown up learning about what it means to be a good friend and to have good friends? What if we stuck together when the hard times came, instead of letting hardships come between us? What if we committed to each other, come what may? Almost nowhere is this being shown, or taught. Why? Because so few people actually know how to build and keep lasting relationships.
Girl Meets World is changing that for this generation. On this show, people don't give up on other people. They know that having friends is a result of being a good friend. Riley, Maya, Lucas, and Farkle are growing together, and learning how to face the world side by side. Hard times do arise on the show, heartbreak does happen, but these four characters are committed to holding each other up when the hard times do strike. We can all learn and grow from watching these characters.
3. Girl Meets World Brings Parents Back Into the Picture
I don't know about you, but I am sick of shows that portray teenagers and children as utterly independent from their parents. They treat their parents as obsolete and unnecessary, an attitude that also infects our culture. Guess what we end up with? Disconnected parents and children everywhere. Children are trying to grow up without the loving and guiding hand of their parents, who are supposed to be in their children's lives to be their safety net and road map. No wonder so many children go flying off the deep end once they get a little freedom, they have no idea what they are doing.
Girl Meets World puts parents back into the picture where they belong. Cory is an integral part of Riley's world as she grows up, and even better, Riley willingly welcomes him and Topanga into her life. Riley knows that her parents are her safety net, her guides, and her biggest fans. She trusts in her parents' love for her, and while she does sometimes struggle against their decisions, she is ultimately grateful that they are so involved. Riley regularly brings her friends into her world with her parents as well; she is neither embarrassed nor ashamed of her mom and dad.
Cory and Topanga are fully committed to engaging in their daughter's life and preparing her for the world. They are going to give their utmost to ensure that Riley is nurtured, taught, and strengthened.
GMW also points out what a lack of good parents can bring in the character of Maya. Maya, despite her attitude of confidence, always carries a wounded look of hunger. She often verbally expresses her longing for a father, and Maya sometimes points out to Riley just how blessed she is to have parents. Cory and Topanga mother and father Maya like she was their own flesh and blood. Maya soaks up as much parental love as she can hold. Riley's parents don't apologize for loving and teaching any of the children on GMW, and the children don't want them to.
Cory and Topanga are the foundation upon which this show rests, without them, Riley's world would crumble.
4. Girl Meets World Takes On the Big Issues
Bullying, beliefs, forgiveness, autism, growing up, perseverance, consequences, you name it. Girl Meets World takes the hard things of life that we have all experienced to a degree, and faces them head on at a level most of their peer shows wouldn't dare. Political correctness is not the top priority, rather, learning about life and people is. Girl Meets World is a place where true things are taught in a way that is gentle and non-aggressive. You are drawn in by the sincerity and heart. Have I agreed with every single thing said on this show? Of course not, but then, no one can say that. I heartily applaud the writers and makers of this show for being kind and brave enough to teach the next generation truth about life. And hey, while they are at it, they are teaching some of the previous generations as well. More power to them!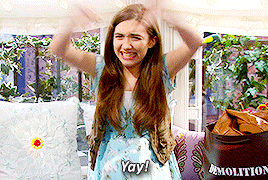 5. Girl Meets World Let's Their Characters Grow, and Us Along With Them
Life never stops moving, it never resets, and things don't stop changing. So why do TV shows think that they can write a story where nothing drastic ever changes, the characters barely grow, and real problems don't last more than a few episodes at best? This is why Disney Channel hasn't been able to get beyond 4 seasons for any of their other shows. This stagnant kind of format for a show only lasts a little while before the shine has worn off and everything is old hat.
Girl Meets World doesn't allow for stagnation. The entire point of the show is to teach us how to grow. The Riley, Maya, Lucas, and Farkle of Season 1, Episode 1 will be different in Episode 10. The characters learn, grow, and mature. They build on previous experiences and growth when facing a new situation. It's a continuing story, not a chopped up collection of events. New characters come, and old characters go. The setting changes, friendships change. We are able to follow the progression of these characters as they are going from childhood into adulthood. This kind of storytelling clearly mirrors our own lives and experiences, making it easier for us to understand the lessons and how to apply them.
Girl Meets World is a different breed of show, and the incredibly amazing thing, is that audiences are responding to it. Girl Meets World has touched so many people, of all ages. It has helped teach, grow, and heal many of us. I cry more regularly when watching this show than probably anything else that I watch on TV today. I learn and grow as a person as I watch the characters struggle to meet the world and live in it gracefully. I have only listed a fraction of the reasons why GMW is an excellent show, but I believe I have given you enough to get started on. So please, join me and all of the other fans as we take on the world.
*****
Do you watch Girl Meets World? If you do, what do you love best about it? What characters do you identify with the most? What lessons have you learned from watching this series? Have you been able to heal from anything in your past?
And if you don't watch Girl Meets World, would you be willing to give it a shot?
If you liked this article, then you would also like 10 Gifs That Sum Up Girl Meets World Fans